Meaty Meaty Pea Soup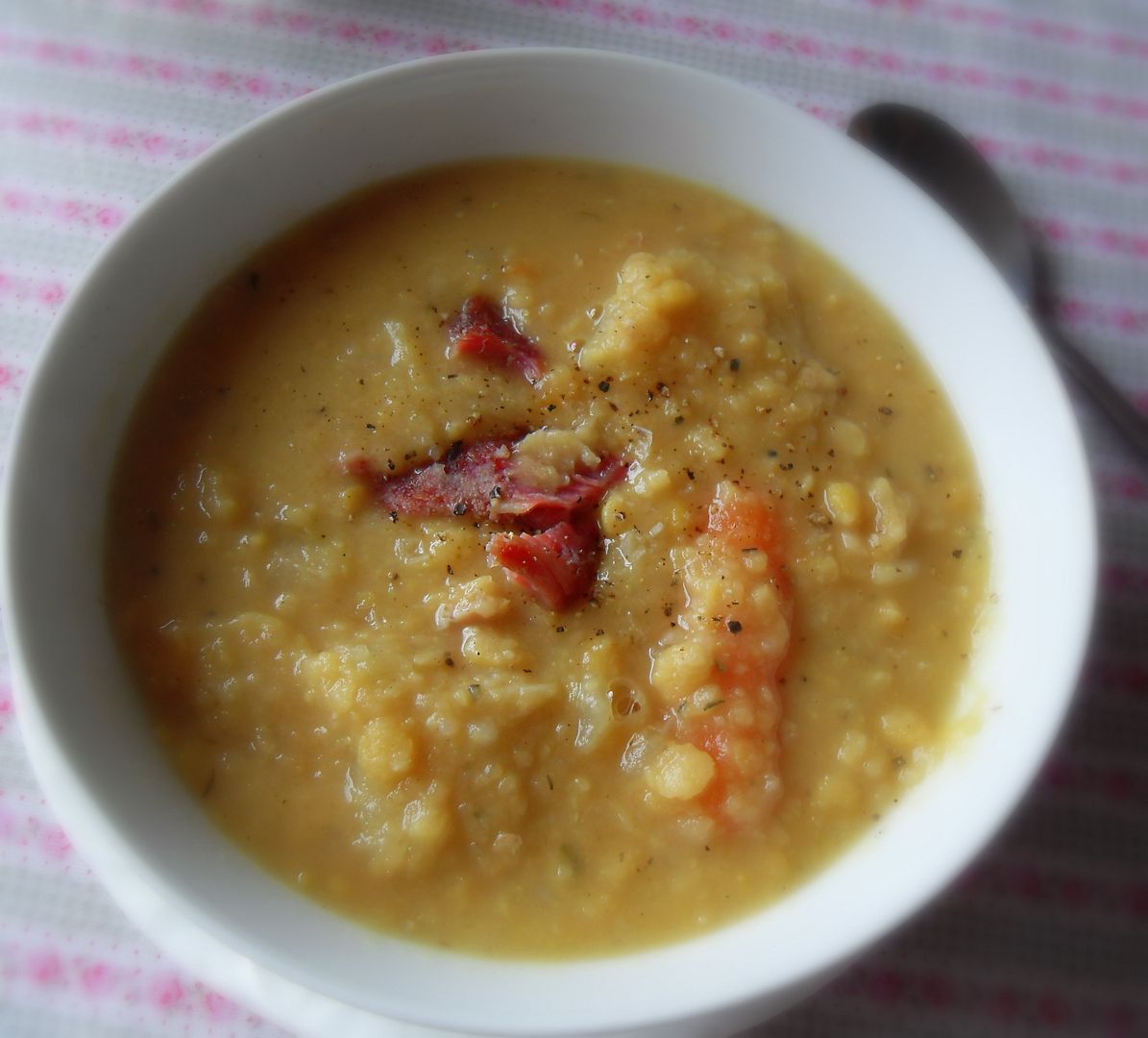 Meaty Meaty Pea Soup
1 package bacon, chopped
1 package pre-cooked no nitrates andouille sausage (Niman Ranch is a good one), chopped
1 yellow onion, chopped
8 cloves of garlic, chopped
3 carrots, peeled and chopped
6 celery stalks, chopped
2 Tbsp fresh sage leaves, thinly sliced
4 Tbsp fresh parsley, chopped
1 tsp fresh ground pepper
4 cups broth
2 cups dry split peas (I used the yellow ones, but you could use green if you prefer)
Chop meats and place in a heavy bottom pan over low-medium heat. Stir periodically as they brown.
Add the onion and garlic and saute until the onion starts to brown, stirring periodically. (You can remove the meats and pour off the fat, but then add a little olive oil as you saute the onion and garlic.)
Add the carrots and celery, stirring periodically as they cook. When they have softened, add the broth, sage, parsley, and pepper.
Bring to a boil, and then add the split peas.
Cook over low heat until the peas get creamy, stirring occasionally to make sure nothing is burning on the bottom of the pot.
Add water as necessary if the mixture starts looking too thick. I even add water when I reheat the leftovers, as the mixture tends to get thicker the longer it sits.
The recipe was super easy and delicious beyond belief. This may be a perfect dish for a chilly Halloween night.
Find other great recipes from one of my favorite blogs: Cynthialovestofeedpeople