All Things Salvaged
The Bay Area is full of great salvage yards and reuse locations for all of your art, craft, home, and crazy needs. Want to get that old rustic feeling with an antique? Or are you looking for a weekend restoration projects? I guarantee that you can find places to buy all things old and new. Here are the best of the entire Bay Area's salvage yards and creative resuse spaces. Whether you are hunting for antiques or just having fun, there is something for everyone.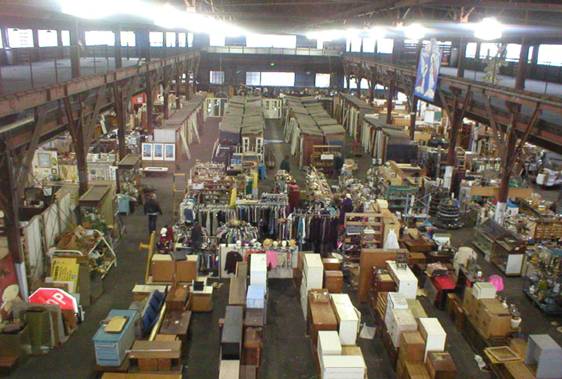 Photo – Urban Ore
San Pablo Flea Market – 6100 San Pablo Ave, Oakland, CA. (510) 594-6820. Odds and ends, everything from old, antique dishes to a wide variety of furniture! Hours 10-6 7 Days/Week. Email: davis_claude@hotmail.com
Ohmega Salvage – 2407 San Pablo Ave, CA (510) 843-7368 and the Ohmega Salvage General Store 2400 San Pablo Ave., Berkeley, (510) 204-0767. Doors, windows, stained glass, pedestal sinks, claw-foot tubs, lighting fixtures, mantels, wrought iron, marble, door and window hardware, architectural elements
Artefact Design and Salvage – 23562 Hwy 121 Sonoma, CA 94576. (707) 933-0660 and fax: (707) 933-0630. Columns, iron gates, building ornaments, funhouse mirrors, statuary, fountains, lighting, ruins & fragments, doors, windows, mantels, garden ornaments. 10-5 daily.
The Away Station – A market place of Reuse 109 Broadway (right behind Fairfax Lumber) Fairfax, CA 94978, Telephone: 415-453-4221
Beyond Waste – 605 W. Sierra, Cotati; (707) 792-2555 and fax (707) 792-2565 . Manufactures and sells flooring made from old-growth Douglas fir rafters; custom makes flooring or paneling; carries entire sets of home windows in casement, including Victorian double-hung windows.  see web page for hours . email: preclyce@sonic.net  http://beyondwastestore.com/
Building Resources – 701 Amador Street (near Third Street) San Francisco; (415) 285-7814 and fax: (415) 285-2489. Lumber, plywood, marble, bricks, tiles, glass, mirrors, lighting fixtures, plumbing supplies, and hardware. 9-4:30 every day. Donations accepted until 4PM and email: BRSFCR@yahoo.com
C&K Salvage – 718 Douglas Avenue (near Edes Avenue), Oakland; (510) 569-2070 and fax (510) 569-2074. Lumber, large timber, siding, flooring, bricks, doors, plumbing. Mon-Fri 9-5 email: cksalvage@aol.com
California Materials Exchange – a FREE, online materials exchange service designed to help businesses, organizations, local governments, industry, schools, and individuals find markets for non-hazardous materials that may otherwise be discarded.
Capitola Freight & Salvage – 1575 38th Ave., Santa Cruz, CA 95062. Architectural salvage, garden/landscape materials, doors, windows, fountains, benches, imports, tile, old building materials. Wed – Sun 10 – 4. (831) 465-6990  Also 10 Calveras st , Sonora , CA 95370 Tues-Sat 10-4pm 209-532-5221
East Bay Depot for Creative Reuse – 4695 Telegraph Ave Oakland, CA (510) 547-6470 and fax (510) 655-6536. Non-profit agency that collects materials and redistributes them to community at low cost. Specializing in art materials, books, small furniture, frames and garden artifacts. Hours for Depot 11-6 seven days a week.
Heritage Salvage -1473 Petaluma Blvd. So. Petaluma, CA 94952 . 707.762.6277 and Fax 707.762.5694 Hours -Tue-Fri 9am-5pm Sat 10am-4pm. Mon by appointment only . Reclaimed building materials and Salvage Boutique.
Ray's Trading Co. – 3570 Gravenstein Hwy SO., Sebastopol, CA 95472 (707) 829-9726 Antiques and Salvage Sinks, Doors, Plumbing, Tubs Windows, Hardware
 Recycle Town – 500 Mecham Road, Petaluma; (707) 795-3660 and fax (707) 795-3934. Specializing in doors, windows, toilets, sinks, and basic household items. Including furniture and cabinets. Open 7-4, 7 days a week.
 The Reuse People –9235 San Leandro Street, Oakland, CA 94603. (510) 383-1983. Cabinets, doors, fixtures, lumber, plywood, sinks & tubs, windows, bricks, ceramic tile, flooring, garden art & more. Hours Mon-Fri 10-6, Sat and Sun 10-4. email: info@thereusepeople.com
 The ReStore Store– 9235 San Leandro Street, Oakland, CA 94603. (510) 777-1447 and fax (510) 777-1451. East Bay Habitat for Humanity's warehouse with appliances, windows, lighting, etc. Open 9-5, Monday – Saturday.
SCRAP – Scrounger's Center for Reusable Art Parts – 801 Toland Street, San Francisco. A creative reuse depot and workshop space located SF. 5,000 square foot warehouse where is organized by type of material: wood, metal, glass, fabric, paper, images, plastic, natural materials, beads & buttons, arts & crafts, toys, and more.
 The Sink Factory – 2140 San Pablo Avenue (near Bancroft Way), Berkeley; (510) 540-8193. Specializing in new and used basins. The full-service company will repair, rebuild, rechrome or customize a new or salvaged sink. Hours Tue-Sat 9-5, 12-3 Sunday, ragnar@sinkfactory.com
This & That – 1701 Rumrill Blvd., San Pablo, CA (510) 232-1273 and fax (510) 232-7213. App. 40,000 square feet of recycled materials, including bi-fold and louver doors, wrought iron, fireplaces, door moldings, windows, sinks, granite, marble, and brick building materials. Hours 8-5 Mon-Sat, Closed Sunday.
Urban Ore – 900 Murray St. near 7th &Ashby, Berkeley (510) 841-7283. Doors, windows, lumber, marble, bricks, tiles, glass, mirrors, molding, lighting fixtures and hardware. Also a general store with secondhand household items. Hours 8:30-7 Mon-Sat, 10-7 Sunday (Receiving closes at 5 pm).
Whole House Building Supply & Salvage– 1000 S Amphlett Blvd, San Mateo 94402 (650) 558-1400 and for Structures for demolition leave message (650)_-856-634. Doors, cabinets, windows, bricks, roof tiles, gates, heaters, lighting, plumbing fixtures, solar & pool equipment, marble, fireplace mantles, hardware. Hours Mon-Sat 9am-6pm  & Sun 11am-4pm  email :Warehouse@driftwoodsalvage.com
Habitat for Humanity Greater SF ReStore-    1411 Industrial Road San Carlos, CA 94070. Greater SF  Habitat for Humanity's warehouse with appliances, windows, lighting, etc
1411 Industrial Road San Carlos, CA 94070 Wednesday-Saturday 9 a.m to 5 p.m hone: 1-800-SHOP-090 or 650-847-4000 Email: restore@habitatgsf.org
Reuse, Recycle, and Restore!