Stellar Bike Paths in the Bay Area
Enjoy the Bay Area by bike, get your exercise while seeing amazing sites. Grab that bike and get out there!!
1. Bay Ridge Trail, Crystal Springs: You need trail reservations, but you and your riding pals can have paradise to yourselves. This is an 11-mile one-way ride with a shuttle on the Fifield-Cahill Ridge Trail. The route spans from Quarry Gate north to the gate at Sneath Lake in San Bruno. In the process, you pass through forest, view points to the east of Crystal Springs, then on past 5 Points to a remote sub-ridge; to the west is the seldom-seen east flank of Montara Mountain, to the east are weeping views of the South Bay. Info: Reserve at www.sfwater.org – click on "Community" and "Explore," then "Fifield-Cahill Ridge Trail."
2. Chabot shoreline, Lake Chabot: This is a family ride, great for youngsters or those getting in shape. From the marina, ride out to the left along Lake Chabot on the Shore Trail. It's a service road with mild undulations en route to the dam – easy and short, with pretty lake views. If you want more, at the marina, continue on the East Shore Trail. It extends to pretty Honker Bay. Info: Lake Chabot Regional Park, (888) 327-2757, option 3, Ext. 4536; www.ebparks.org.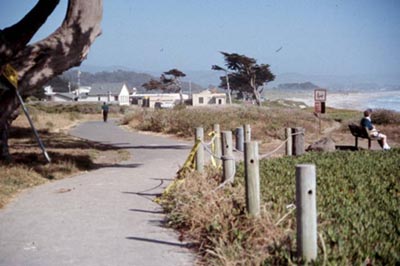 3. Coastal Trail, Half Moon Bay: The best way to do this trip is to start at Half Moon Bay State Beach (or nearby at the Bike Works for a rental). Then ride north on the Coastal Trail all the way to Pillar Point Harbor (with one section incomplete at Surfer's Beach) for lunch. You'll pass bluff tops, a series of beach access points, and get big views of the Montara Mountain ridge on one side, the ocean to the other. Info/rentals: The Bike Works, (650) 726-6708, www.bikeworkshmb.com.
4. Haul Road, Portola Redwoods State Park: A personal favorite. A 10-mile round trip from Portola Redwoods State Park gently down to Memorial County Park. The Haul Road is a smooth dirt road that is routed through redwoods near the headwaters of Pescadero Creek. A great family ride in wildlands. Info: Portola Redwoods State Park, (650) 948-9098,www.parks.ca.gov.
5. Angel Island is another great date ride for couples or families. Angel Island offers 13 miles of fireroads for casual bicycle trails and great picnic opportunities everywhere. Unfortunately, dogs are not allowed on the island. The ride is steep at times, but manageable for almost everyone. Bring a lock and helmet for the ride, and plan a picnic for lunchtime.  Getting there: A ferry will get you there for $12 round trip from the Alameda Ferry to Pier 41 to Angel Island. The Alameda Ferry is located at the tip of Bay Farm Island.
6. Napa Valley is a great getaway from the Bay Area and a perfect place for casual cycling. You can combine cycling with wine tasting along the Silverado Trail for a rockin' and unforgettable time. The fourteen mile loop will hit about a dozen wineries (and six free ones!) and is flat all the way. You can then reward yourself with award-winning French restaurants in the town of Yountville.
Getting there: An hour. Take 880N to 80E to 37 towards Vallejo/Napa. Follow Marine World Pkwy for 3 miles – take a right on Sonoma Blvd/CA-121 – CA-121 turns into CA-29. Exit Yountville Cross Road, find parking.
Trail secrets: Ride down Yountville Cross Road, take a right on Silverado Trail, then another right on Oak Knoll Ave. Cross Hwy 29 and take a right on Solano Ave. instead (it's much less congested with cars). Finally, hang a right on California Drive – this is a 14 mile loop, and there's tons of wineries along the way, so bring plenty of sunscreen.
7. Golden Gate Park is a large park with plenty of sites to see – the Botanical Garden, Japanese Tea Garden, live free symphonies, and tons of museums. Riding bicycles is the best way to experience such a diverse park in a day, as the main street is now closed to motorists on Saturdays, Sundays and some holidays but open to all walkers and cyclists alike. Be sure to bring a lock, as you'll surely want to check out the many sites along the way.
Getting there: Take the side streets and find some parking! (Click on the link to find a topical map of the park and streets adjacent).
(ideas taken from SFGate and Easy Bike Rides)