7 Autumn DIY Home Projects
Greet guests with this charming alternative to a fall wreath. Simply apply a layer of chalkboard paint to the inside of an old tray, then add autumn branches and bittersweet berries for a seasonal finish. (Swap in evergreen and holly for the holidays!)
or switch it up a lovely owl
For the wreath base: Wrap burlap ribbon ($8;joann.com) around a 16″ Styrofoam form.
For the eyes: Use utility scissors to cut a 5″ circle from a sisal doormat ($5;ikea.com). Trim a 2″ strip from the edge of a raffia table skirt ($7;partycity.com) and hot-glue along the outer edge. Next, hot-glue the outer ring of a 41/2″-inch Mason jar lid inside the raffia, securing it to the sisal circle. Hot-glue a metal bottle cap at the center of the ring and encircle with dried pumpkin seeds. Hot-glue a red wood bead inside bottle cap. Repeat for second eye.
For the wings: Cut two 8″H x 5″W teardrop-shaped pieces from the doormat.
For the beak: Cut a 3″ triangle from the mat; cover with dried pumpkin seeds.
To assemble: Attach the beak, then the eyes and wings, with hot-glue.
Painted Acorns
Jazz up your acorns with acrylic craft paint! Place them in a small bowl for fun and festive fall flair.
Get the tutorial at Home Stories A to Z.
Homemade Pinecone Bird Feeders
Give your birds a fanciful feast with pinecones, peanut butter, bird seed, and twine.
Get the tutorial at Freebie Finding Mom.
Candy Corn Button Art
Glue orange, white, and yellow buttons to burlap in a candy corn pattern for a bright mantel art.
Get the tutorial at Repeat Crafter Me.
Tree-Branch Coasters
To make these rustic drink perches, you'll need a tree limb that's roughly three inches in diameter. (Save-on-crafts.com sells birch logs for $12.29 a foot.) Saw the branch into slices about 3/4-inch thick—or have a hardware store do it for you—and lightly sand each wood disk. Create the leaf motifs shown by pressing an inked stamp (stamps, $23.28 a set; green ink pad, $6.61; stampinup.com)onto each coaster. Let dry for five minutes, then coat the stamped side with a protective matte finishing spray (Krylon Make It Last Clear Sealer, $3.63;misterart.com). Allow 15 minutes of drying time before using.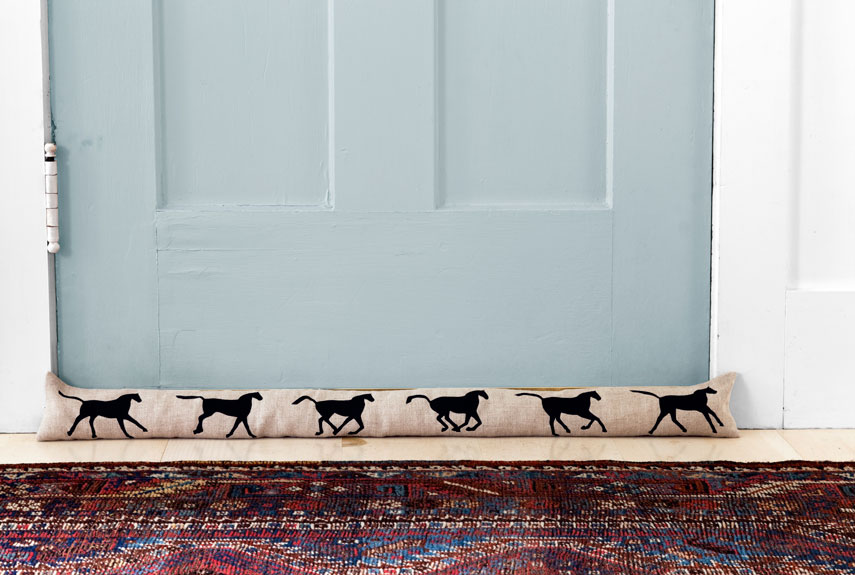 Horse Silhouettes Draft Dodger
Feeling a chill? This animated pillow is a breeze to sew.
Step 1: Download our horse silhouettes and print them onto iron-on transfer sheets(Dark T-shirt Transfer sheets, $7.99 for three; store.junetailor.com). Carefully cut out each horse.
Step 2: Measure and cut out two 37″W x 5″H rectangles from a sturdy but flexible fabric, like raw linen, in a pale hue. Iron out any wrinkles. Arrange the silhouettes as shown, on the right side of one fabric rectangle, taking care to leave at least a half-inch seam allowance all the way around. Iron silhouettes in place, according to transfer-sheet package instructions.
Step 3: Pin the two fabric rectangles together, right sides facing. Stitch along the seam allowance, leaving one end open. Use scissors to clip the corners, then turn the pillowcase right side out. Push out the corners and iron the fabric flat.
Step 4: Stuff the case with approximately 54 ounces of bean bag fill ($2.99 for eight ounces; joann.com), so that the pillow's full, but not overstuffed. Blind-stitch the opening closed, then set your draft dodger snugly against the bottom of a door.
(projects taken from Country Living)