Free Wine Tasting in Sonoma County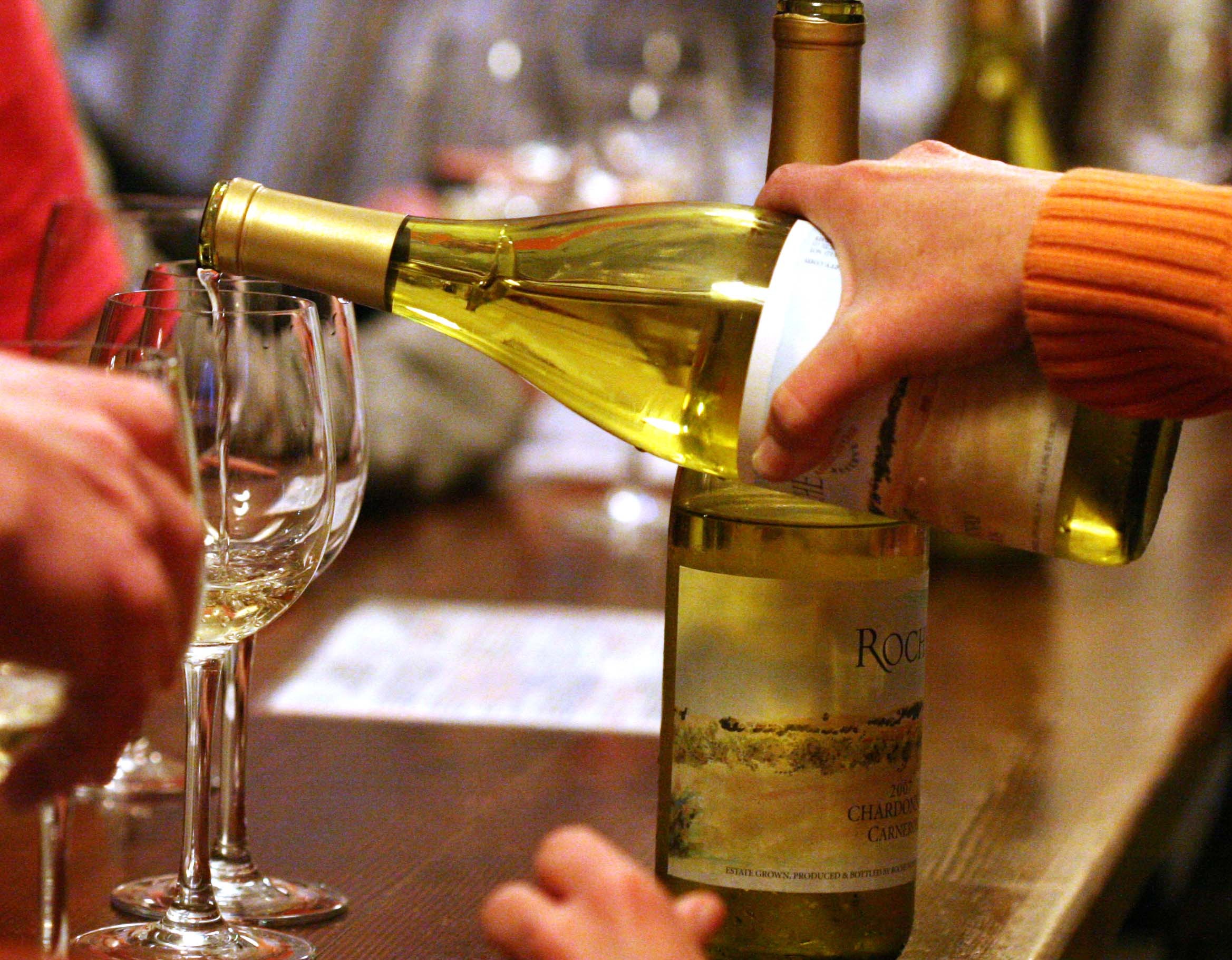 Its amazing range of terroir and microclimates distinguishes Sonoma County as one of the most diverse winegrape-growing regions in the world. The Pacific coastline, redwood forests, fertile valleys, and mountains produce an array of exceptional wines.
Despite the myth that wine tasting is an expensive activity, there are dozens of wineries in Sonoma County that offer either free wine tasting or waive the tasting fee with a wine purchase.
List of Sonoma County Wineries with NO tasting fees (subject to availability):
Alexander Valley Vineyards
8644 Highway 128
Healdsburg
707-433-7209
www.avvwine.com
Arbios Cellars / Praxis – Locals Tasting Room
21023 Geyserville Avenue
Geyserville
707-857-4900
www.arbioscellars.com
Blanchard Family Wines
109 W. North St.
Healdsburg
630-606-4389
www.blanchardfamilywines.com/
BobDog Wines at Sky Pine Vineyards
31955 Pine Mountain Road
Cloverdale
707-894-4812
www.bobdogwine.com
Carol Shelton Wines
3354-B Coffey Lane
Santa Rosa
707-575-3441
www.carolshelton.com
Cline Cellars
24737 Highway 121
Sonoma
707-940-4000
www.clinecellars.com
Colagrossi Wines
7755 Bell Rd.
Windsor
707-529-5459
www.colagrossiwines.com
Coturri Winery
6725 Enterprise Road
Glen Ellen
707-525-9126
www.coturriwinery.com
D.H. Gustafson Family Vineyards
9100 Skaggs Springs Rd.
Geyserville
707-433-2371
www.gfvineyard.com
Francis Ford Coppola Winery
300 Via Archimedes
Geyserville
707-857-1427
www.franciscoppolawinery.com
Frick Winery
23072 Walling Road
Geyserville
707-857-1980
www.frickwinery.com
Frostwatch Vineyard & Winery
5560 Bennett Valley Road
Santa Rosa
707-570-0592
www.frostwatch.com
Hans Fahden Vineyards
4855 Petrified Forest Road
Calistoga
707-942-6760
www.hansfahden.com
Hauck Cellars
999 Foreman Ln
Healdsburg
707-486-0017
www.hauckcellars.com
Highway 12 Vineyards & Winery
498 1st Street East
Sonoma
707-938-8091
www.highway12winery.com
J. Rickards Winery
24505 Chianti Road
Cloverdale
707-758-3441
www.jrwinery.com
Jacuzzi Family Vineyards
24724 Arnold Drive
Sonoma
866-522-8693
www.jacuzziwines.com
Johnson's Alexander Valley
8333 Highway 128
Healdsburg
707-433-2319
Johnson's Alexander Valley on Facebook
Karah Estate Vineyard & Winery
1010 West Railroad Ave
Cotati
707-795-3030
karahestate.com
Ketcham Estate
Contact us directly
Healdsburg
707-395-0700
www.ketchamestate.com
Korbel Champagne Cellars
13250 River Road
Guerneville
707-824-7316
www.korbel.com
Locals Tasting Room
21023 Geyserville Avenue
Geyserville
707-857-4900
www.tastelocalwines.com
Merry Edwards Winery
2959 Gravenstein Hwy North
Sebastopol
888-388-9050
www.merryedwards.com
Munselle Vineyards
3763 Highway 128
Geyserville
707-857-9988
www.munsellevineyards.com
Novy Family Wines
981 Airway Court Suites E and F
Santa Rosa
707-578-3882
www.novyfamilywines.com
Optima Wine Cellars
101 Grant Avenue
Healdsburg
707-431-8222
www.optimawinery.com
Pendleton Estate Vineyards & Winery
35100 Highway 128
Cloverdale
707-894-3732
www.pendletonwines.com
Raymond Burr Vineyards
8339 West Dry Creek Road
Healdsburg
707-433-8559
www.raymondburrvineyards.com
Rielle Wines
7010 Petersen Road
Petaluma
707-849-7359
www.riellewines.com
Rodney Strong Vineyards
11455 Old Redwood Highway
Healdsburg
707-431-1533
www.rodneystrong.com
Selby Winery
215 Center Street
Healdsburg
707 431-1288
www.selbywinery.com
Siduri Wines
981 Airway Court, Suites E & F
Santa Rosa
707-578-3882
www.siduri.com
Sonoma Portworks
613 2nd Street
Petaluma
707-769-5203
www.portworks.com
Sunce Winery
1839 Olivet Road
Santa Rosa
707-526-9463
www.suncewinery.com
Williamson Wines
134 Matheson Street
Healdsburg
707-433-1500
www.williamsonwines.com
(from Sonoma County website)