Mechanics' Institute – Library and Chess Room
Who knew this place existed, I certainly didn't.  Located in the Financial District of SF the institute describes themselves:  "The Mechanics' Institute is a leading cultural center that includes a vibrant library, a world-renowned chess program and a full calendar of engaging cultural events. Founded in 1854 to serve the educational and social needs of mechanics — artisans, craftsmen, and inventors — and their families, the Institute today is a favorite of avid readers, writers, downtown employees, chess players, and the 21st century nomadic worker. We are located in our 9-story landmark building in the Financial District of San Francisco at 57 Post Street".
I really feel like I've been under a rock here. The institute offers a variety of activities and events:
Library
Though initially a library dedicated to the mechanical arts, today's library has materials in all subjects with special strengths in literature, fine and performing arts, history, philosophy, business, finance, and periodicals that are hard-to-find in electronic format. The latest best-sellers and films are also available, as is a rapidly growing audio-book, e-book, and music collection.
The Mechanics' Institute prides itself on personal service and its dedication to the "intellectual growth of its members". Members are encouraged to recommend materials for purchase, attend workshops, and participate in literature and film discussions groups. Currently there are five book discussion groups on a variety of genres and three writers' groups offering peer-to-peer support, advice, and camaraderie.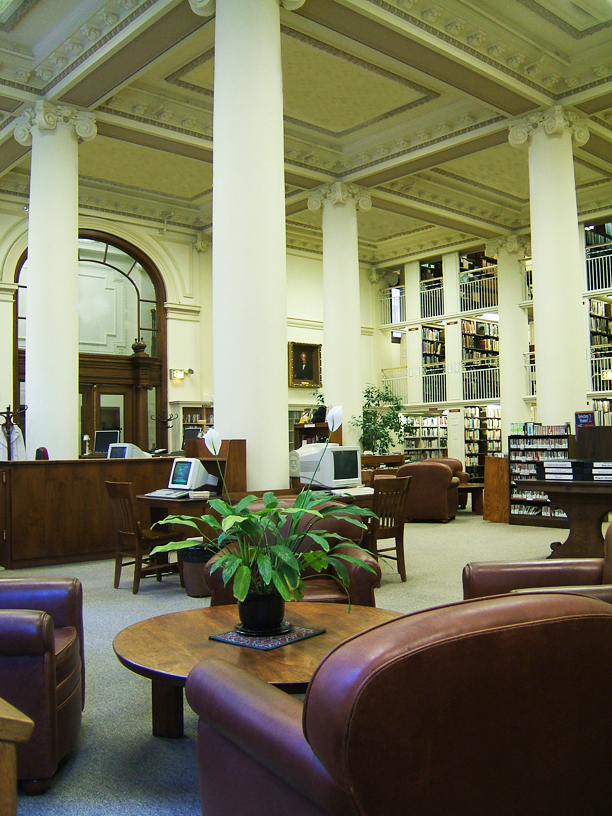 Programming
The Mechanics' Institute hosts a diverse range of cultural events including author readings and conversations, lectures, writers' workshops, technology classes, civic discussions, and community gatherings.
The CinemaLit Film Series presents 35 films a year featuring classic American, Retro and foreign films. The evening begins with introductions by prominent film critics, writers and reviewers with a lively discussion after each film. CinemaLit draws an, eclectic, diverse audience with many film buffs dedicated to our Friday night film salon.

Chess
The Mechanics' Institute building houses the oldest continuously operating chess club in the United States. Many World Champions and other top players have visited the chess room from Emanuel Lasker to Wesley So. Grandmasters Sam Shankland and Daniel Naroditsky, who learned the game at the Mechanics' Institute as youngsters, represented the United States in the 2015 World Chess Team Championship.
Activities are offered for all levels of players from beginners to Grandmasters. Tournaments are the lifeblood of the Chess Room with weekend events and Tuesday Night Marathons the anchors.
Membership
Membership in the Mechanics' Institute is open to the public. Membership offers the full services of the Library and Chess Room, along with free admittance or special member rates to special events, lectures, book discussion groups, classes, and other activities.
Events at the Mechanics' Institute
And there's much, much more.. Check it
OUT
.